No one wants the happiest day of their lives to blend in with the other 100 weddings they have been to. In fact, for most couples, making their wedding stand out from the crowd is one of the most important criteria. Of course, to achieve a wedding that special, you will need to arrange some pretty outstanding things. A topic you can get some suggestions on in the post below.
Ditch the buffet
Buffets can be perfectly acceptable for a wedding breakfast, but they are rarely outstanding. In fact, if you really want to wow your guests and create a memorable day, then you will need to do something a little more unusual than that.
One idea that works particularly well is to serve hot food in the form of old school British classics. Such as fish and chips or sausage and mash. After all, this selection is unusual enough to stick in people's memories and different enough to be a welcome break from more traditional wedding fair.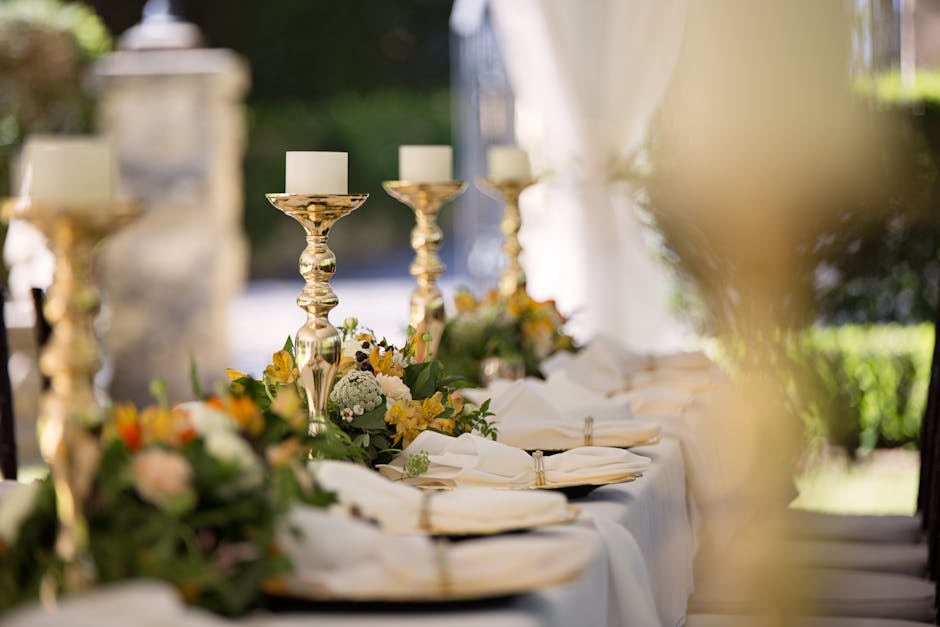 Of course, you may want to try the America way of doing things instead. Something that includes having lots of different live-cooked food stations for things like pasta, shrimp, and hot hors d 'oeuvres. Then guests can walk around and help themselves to what they want, with not a curled sandwich in sight!
Go all out on your theme
Next, if you are looking to elevate your wedding to an outstanding level, you must go for the wow factor. Something you can do to significant effect by picking a theme and really committing to it in terms of the decor on your special day.
In fact, by elaborately dressing your venue, you will not only impress your guest but create an immersive experience for your wedding as well. This being something that can make it genuinely magical if done right.
Have a free bar 
People like to have a good time at weddings, and you can pretty much guarantee this by having a free or subsidised bar. Of course, not every venue will have a bar area in a suitable location or for the number of guests that you have.
Although there is no need to panic if this is the case. In fact, it is entirely possible to erect a bar in the location and of the size that you need. Something that a Dry Bar Hire specialist can help you to do. After all, as it's a dry bar, you won't need access to plumbing and sinks to make sure all of your guests have full glasses and are enjoying the most outstanding time possible.
Include entertainment through the day 
Finally, you can really take your wedding day over the top by making sure your guests get no time to be bored. The most effective way of doing this is to lay on entertainment of different kinds all through the day.
For example, lawn games, a magician, or even circus acts can be a great choice to fill the gap when you are your SO are having photos done. While a photo box, dancing, and even some casino tables can help people party on into the evening of your wedding in the most outstanding way.